Postage discounts – cheaper postage – mail sorting – Mail sorted
There are many hundreds of ways to post or transport mail – so please do give us a call to discuss the best or most cost effective method for your project. We post many thousands of items a day and specialise in getting the best discounts possible.
If you are posting using stamps or a franking machine then there are many options to get more cost effective posting – what is the catch I hear you think? Well there is not one, there are a few rules you need to comply with and the more you post the better the discounts you get.
You may be surprised about how much discount can be achieved for small volumes of mail … confused then please read on and we may be able to un-scrabble the confusion.
Mailing smaller volumes
Letters where we can add a barcode we can discount from 500 items
Large Letters – we can even give you discount off Franking prices down to 250 items for Large letters
What is the entry level and where do we start?
Large letters and items over 100 grams – you only need 1000 items
Letters – under 100 grams and C5 or DL in size – you need 4000 items
Letters – under 100 grams and C5/DL Cleanmail – you need 1000 items
Why are we able to offer such high postage discounts?
We work closely with Royal Mail and the Down Stream Access Providors (DSA) to get the best speed of delivery versus the best price. We ship high volumes of mail that is joined from many different clients to help us achieve an overall postage discount for everyone. This is also referred to as Bulk mail services.
What is the highest postage discount available and why?
The best cost for sending a piece of marketing campaign materials is in the form of a letter (under 240 x 165 and less than 5mm thick and under 100 grams) you do need to send over 4000 mail sortable items (Bulk mail) – or a number of Companies joining together to send this volume.
We carry out a process called mail sorting the data, which really means we sort it into an order that Royal Mail can handle without any further processing.
This comes in a number of forms – here are a few examples
Letters and Large Letters
Mailmark barcodes – 2d or 4d
DSA – Down Stream Access
Low sort Barcode (Use to be called 120 CBC)
Low sort OCR (Optical Character Recognition)
High sort (Use to be called 1400)
Naked Mailing
All of these come in 1st class, 2nd class and Economy (economy use to be Mailsort 3 not available with DSA)
Mailmark
Mail and Print are a fully accredited and enabled mailing house to process Mailmark mailing, we are even posting now – so even if you just want the barcodes generated or even the data sorted for Mailmark then please do let us know – we wouldclearly prefer to do the whole mailing for you including the production of the mail items.
More information on Mailmark: http://www.mailandprint.co.uk/mailmark/
Considering sending with Down Stream Access (DSA)
The only difference with sending via the DSA service is that only one service is available which is a 2-3 day (2nd class service), however there are some benefits with sending via the DSA channel.
More cost effective
More control over the landing day of the post
You have several options of who you prefer to send with Citi Post, Secure Mail, Whistl, UK Mail, One Post
This is still referred to as Bulk Mail Services
You can generate your own version of the postage mark

Citipost
UK Mail
Whistl
Secure Mail
We post with all these providers
What is mail sorting?
Royal Mail or downstream access suppliers call it work share, we do some of their work and get the discounts for this and pass the discounts on to you. It means that we sort the data, print it and maintain it in an order that makes it easy for the postal carrier to handle – getting you the discount and a faster speed of delivery.
First, second or Economy (third class)?
Royal Mail are the only postal provider to be able to post on an Economy service, (this use to be called Mailsort 3 and was delivered on a 5-7 delivery schedule, the prepaid postage impression (PPI) has not changed but the name has it is now called Economy mail and Royal Mail endeavour to deliver 66% of this mail by day 4 of posting – they are increasing this percentage as the new systems bed in, but do bear in mind this Economy mail can still take longer than 4 days – so still exceptionally good where you are expecting telephone responses and want to spread the calls over a few days as the different mail centres will deliver on different schedules depending on the workload in thier area.
What are the entry levels?
You can post with us from as little as 1 item if you use our Drop and Post Service, it means you have to drop the post off here at Mail and Print in Berwick St Leonard, but you get the benefit of the discounted franking rates
Approvals
We hold all of the mailing approvals for the following
Mailmark
Low Sort Barcode and OCR
Highsort – all levels
Advertising Mail
Mailing House approval to send Mechanical Mail approvals on your PPI account
Strategic Mailing Partnership – Full Membership (SMP)
Previous approvals held
Cleanmail (OCR or CBC)
Cleanmail plus
Mail sort 120 OCR
Mail sort 120 CBC
Mail sort 700 CBC
Mail sort 1400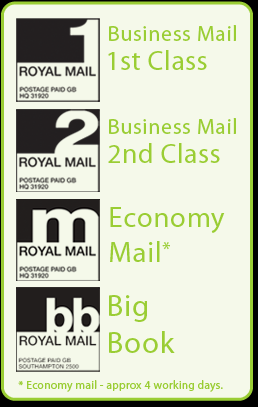 Got your own Royal Mail account? Then we are happy to post on this, but do bear in mind that if you don't have the data and material processing approvals for Mail sort 120 or 700 systems you may not be getting the best discounts available.