Mailmark and reporting – do you really know what the reports mean
REQUEST QUOTE
Mail that Speaks volumes – Royal Mail Mailmark
One of the top reasons to send your mail by Mailmark is so that you can see exactly what happens to your mail after it leaves the mailing house.
When logging on to the Royal Mail Mailmark account you will be faced with different sections of the process of the mailing. This section will have hyperlinks that you can click on to tell you the necessary information and generate reports for you to look at.
The good thing about Mailmark is that you can see all previous and current jobs that you have sent via Mailmark.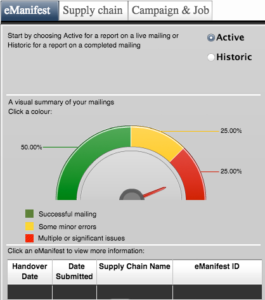 There is a visual summary by a colour wheel on the website. This is not something that is entirely accurate as sometimes it will show as yellow for 'minor errors' yet the mailing has been processed and progressed on time. You can click on the different sections of the wheel is this generates different reports at the side for you to see.
With the Mailmark wheel the colour that you do not want to see the whole wheel covered in is red. This stands for multiple or significant issues. However, this will change as the days progress and the mailing is processed. It is always good to ring the mailing house or contact Royal Mail directly for Mailmark information via this email mailmark@mailandprint.co.uk and they can help work out what the issues are. This is very helpful as if a mailing fails it does still get processed but as a standard letter so you do lose your discount rates. This will have a huge effect on your costs. It is always worth contacting Royal Mail to find out what the issues are so to avoid this for future mailings.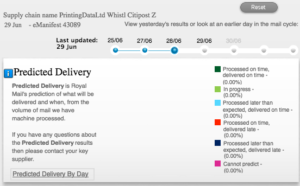 You do also have to be aware that although the mailing may say 'processed on time, delivered on time' this may change over the days as it is only a 'predicted delivery'.
The various sections with reports are 'Predicted Delivery', 'Volume' and 'Performance'. These reports will show you the data of the letters with the issues; this can be anything from data quality to missorts.
The good thing about this is that you can see the people or mailing zones affected, however it doesn't really tell you what the issue actually is or why/how this has happened. This is where the reports should be saved and emailed to Royal Mail so they they can help you understand them.

Overall the Mailmark reporting does work well as it is a massive step and insight to mailings that we have never had before, however it still has a very long way to go.
Need to know more about Barcodes and how it works:
http://mailandprint.co.uk/mailmark/
Request a Call Back
Simply add your name and phone number and we'll call you back with free, friendly advice within two working hours...