When Print Moves, 3 Ways AR Can Enhance Consumer Experience
REQUEST QUOTE
Watching the coverage of Glastonbury brought home to me the extent to which people live their lives through the screens on their mobile devices.  To me I find it amazing to think that people spend a significant amount of money to go to these festivals and watch all of the artists on the screen of a phone.
Whether this is an 'advancement' in our behaviour is debateable but it does give me hope – more than that actually, confidence that the uptake of Augmented Print will be fast and explosive once it a component part of the Apple and Android operating systems.
What is Augmented Print?
Augmented print or Augmented Reality (AR) is when you use the combination of the camera on your mobile device and an app to view images.  The app simply overlays another piece of digital content over the picture which enables you to 'bring your print to life', the content could be pretty much anything that you have created so a video, 3D imagery, Twitter feeds or web pages as examples.
This technology has a wide variety of different uses, from unlocking content that compliments articles in magazines or newspapers right through to streamlining the number of touches required for a customer to make a purchase.
So How Can I Use AR?
1:  Bring products to life
There is no doubt that people are changing their purchasing habits and buying more online, but physically going somewhere to 'try on' or 'view' and item has been an essential for some items.  Furniture for example, cars or high end jewellery and clothing, makeup or even paint are all examples of products that the consumer would rather try or view prior to purchase.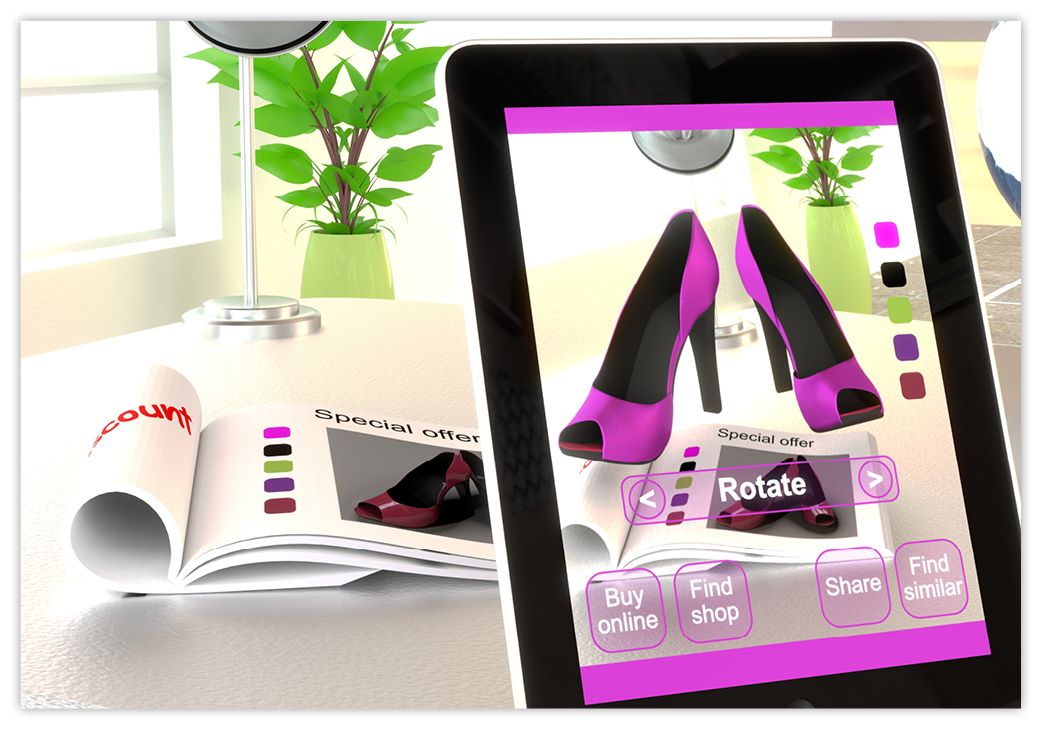 Even then you still need an element of imagination to know how something might look when placed into your own personal environment.  With the use of AR however consumers could use apps to see how furniture will fit in their actual rooms, or how a watch might look on their wrist.  They might even be able to take a 3D look around the interior of a car or even 'take it for a drive'!
2: Make print a streamlined sales channel
Online shopping is a great experience for the user, unfortunately it's also a wide open market place, if you follow through the normal purchasing process a consumer might go through you'll recognise that at some point they will search for the item they want to purchase through a search engine.  Once that search occurs they will have been exposed to a large number of your competitors – you may not even be on the first page of the search!!
With AR you can streamline this purchase process by enabling the consumer to enter straight into your online purchasing process without the need for them to undertake a product search, with this approach you automatically exclude all of your competitors from the purchasing process.
3: Enhance printed articles with digital content
In the digital era it's quite the norm to create huge amounts of digital content, much of which is relevant to any articles or pieces you may write and put into print.  So, another use of AR is to enable your consumers to access this digital 'complimentary' content simply by opening the app and scanning a photo.
Examples of this could be recording a full interview with a celebrity and only using excerpts of that in print, with people only being able to access the full version in video format online.  This approach means that you can achieve a 'minimalistic' approach to your printed articles, but still deliver huge amounts of content.
In Conclusion
Today AR does have some great uses, especially if you are a large corporate company which already has a widely used APP or you have a captive, loyal audience that will invest in an app that you suggest.  But in my personal opinion, it's not quite getting the mainstream attraction that it will have from Marketing Professionals in the future.   
Apple have made a lot of noise about using AR in future generations of their IOS for mobile devices.  Once this happens, I would expect AR to become an extremely important part of a Marketing Toolkit.  So, it becomes a simple equation of being a marketing leader by adopting new approaches now and using proprietary means to do so, or sitting back and waiting for AR to becomes a mainstream method of advertising.
Request a Call Back
Simply add your name and phone number and we'll call you back with free, friendly advice within two working hours...